Mad Men gone mad?
A speculative multi-channel recruitment campaign goes viral
How would the one of the world's well-known advertising agency McCann advertise itself? I got inspired by a legandary TV-serie Mad Men and decided to draft a imagenary recruitment campaign. Here is a draft of the scenario, how would it go if the goals are met – and beyond. Few strategies come without an element of risk, however, but let's play with the best-case scenario*.
Target audience:
The most brilliant people in the advertising industry with a demanding point of view, what good advertising is.
Hungry 30+ professionals, who want to win awards, which means they are looking to be employed by an award-winning agency.
Based in big cities and commute by public transport to their city centre offices.
They've probably watched every single episode of the Mad Men. In the show, McCann was playing a role of an agency that was constantly proposing the main characters to work for them – with no success (well, uhm, watch all the 7 seasons).
Insight:
Attracting the best people requires being the best. The target audience is witty and not hiding it. They are always up to a challenge, so let's offer it to them and set up a mystery – let them show how clever they are.


Main goal:
Intrest towards McCann as an employer: receive increased amount of job applications
Secondary goals:
Re-position McCann to the cutting-edge agency with brilliant ideas and ability to push the boundaries of conventional to digital and guerrilla

Light-hearted bragging: this is a big budget campaign, a message that McCann is doing well – who wouldn't aspire to join the winner?

Phase 1, teaser: For a couple of weeks period, there were posters starring John Hamm (Donald Draper, creative director) and Elisabeth Moss (Peggy Olson, originally a secretary, who climbed the ladders becoming a star copywriter and finally Don's boss).

The campaign slogan was missing – which the audience didn't know yet and only the small tagline on the bottom gave a cryptic hint about what was going on. Also, there was a non-advertised short film around the theme on Youtube – who found it first and did it go viral?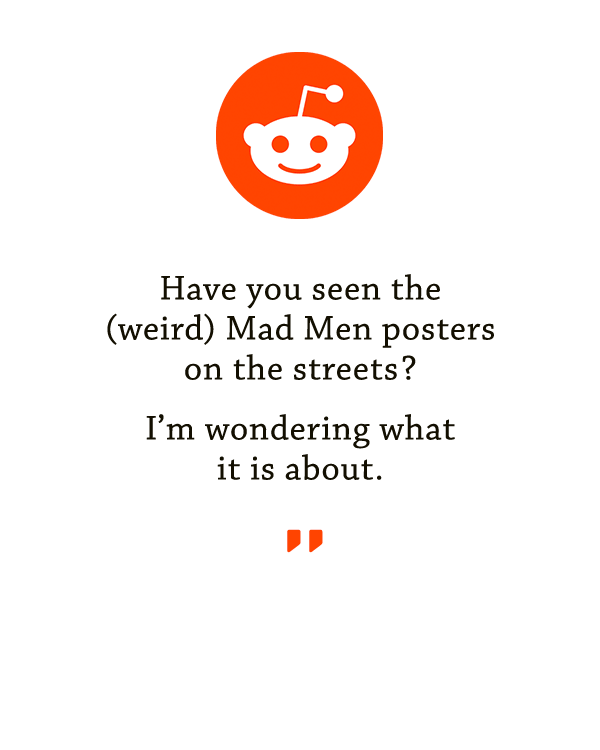 ︎ Of course, the TV serie owned images couldn't be used unless they really would be launching a new season and would like to collaborate. Otherwise, the pictures of the actors should be taken in McCann environment and anyway deal with all the legal stuff regarding to Mad Men – because the campaign is purposely misleading to TV show, even though it advertises McCann.

Phase 2, revelation: The posters were changed revealing the campaign slogan and an advertiser, McCann. And it sure caught the attention. Papers saw juicy headlines about the screen enemies collaborating in a real life. TV news and talk shows competed to get to interview John Hamm and Elisabeth Moss. This media coverage had a huge value in money and organic attention.


The campaign started running on social media. The call to action was to challenge people to make their own suggestion using #mccannpeople on social media and McCann will reward the winner with a (beoynd) generously paid two weeks-long contract as their Creative Brain at the McCann HQ, flights and hotel included. The chance to win was same for anybody, and it was exciting to see, if the winner came from finances, construction or perhaps creative field.

* In my opinion, you can only come up with the best ideas, when you forget all the boundaries. There will be a time soon enough to face the facts, but the art of making a splendid idea alive is how to adjust it with the real-life restrictions. For example in fashion shoots, I first think it big and then draft another, small budget version – or the other way around. Sometimes the small is doable, sometimes even better than a big budget, sometimes you just have to give it up. That's life – and an agile technique to see, if it works or not. You can't fail if you don't try.

With this Mad Men specula, I wanted to go crazy, though I'm well aware of many possible limitations: they can be solved or not, but that would be the next phase of the project.